KK3Q (ex-KD4KU & WD4HSA)
EPC #786 | CDG #131 | NDG#120
30 Meter Digital Group #0198
SRT #259 | DMClub #689
ARLHS #1366 | 10-10 #26039
Feld Hell #FH 733 | 070 #581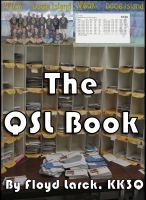 The QSL Book, on sale now
at Smashwords.com
Site Map
Home Page - the main page of the site.
EPC - files for the European Phaseshift Keying Club.
Contesting - contesting awards & certificates from contesting.
QSO Parties - various QSO parties I have been in.
Awards - Awards such as WAS, WPX and others.
Wallpaper - Some of the many certificates I have accumulated.
QSL - Special QSL cards and eQSL collections.
Logs - Search my logs to see if we have worked in the past.
Misc - Stuff like the DX Code of Conduct & The Steelers.
Steelers - If you love the Steelers you will love this page.
Organizations - Various clubs I am a member of.
Lighthouses - Visit the lighthouses I have worked.
IOTA - Some of my Islands On The Air QSLs.
Zero Five - My main antenna.
Hurricanes - The famous storms of 2005.
Links - Some links we have traded for.
10-10 - The 10-10 International organization.
Digital Groups - Various digital clubs that I belong to.
30 MDG - The 30 Meters Digital Group.
NDG - Natal Digital Group.
CDG - Croation Digital Group.