KK3Q (ex-KD4KU & WD4HSA)
EPC #786 | CDG #131 | NDG#120
30 Meter Digital Group #0198
SRT #259 | DMClub #689
ARLHS #1366 | 10-10 #26039
Feld Hell #FH 733 | 070 #581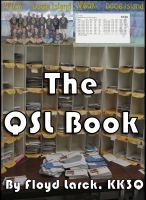 The QSL Book, on sale now
at Smashwords.com
DX-pedition QSLs
---
A group of six members of the Texas DX Society operated from San Andres Island, Colombia from February 28 - March 6th, 2008. This included participation in the ARRL International DX Contest (Phone) on March 1-2. Ops were K5WAF, W5PR, N4AL, W5PF, NM5G & WF5W. I was fortunate enough to work them on 40 meter SSB. Another great QSL card for the collection:
---
The 5T DXpedition 2008 German HamRadio DXpedition 5T Mauritania 2008 using the call of 5T5DC was a very good catch. Although I already had Mauritania confirmed (5T5CJ on 10 meters back in March of 1980) I wanted to work the country on a couple of other bands as well. Thanks to the team of DL3JJ, DL7ZZ, DH7WW, DL2JRM, DL5SE, DL4JS, DK8YY, DL2ARD, DO1CTL I was able to do so. On March 17, 2008 I was able to work 5T5Dc on both 15 and 20 meter CW. Below is their very fine QSL card:
---
Clipperton Island at last! I was able to work the team of TX5C on RTTY/30 meters, SSB/17 meters, SSB/15 meters, CW/15 meters, as well as CW/30 meters. This was a more difficult group of contacts to make, partly because of band conditions and partly because of the extreme hardships the team of TX5C endured at the hands of Mother Nature. As if the bands and the weather weren't enough of a hinderance there was a proliferation of operators attempting to work TX5C that exhibited rather poor operating manners. Calling on top of each other, not understanding how to work split frequency operations, and one of my pet peeves - not LISTENING before hitting the transmit switch. Add to this the childish behavior exhibited by 'amateur radio operators' on the various DX spotting nets and one could see the difficulty encountered during this DXpedition. My own enjoyment was seeing the TX5C team persevere and bring yet another remote DX location into my own personal log book.
VP6DX - Dulcie Island
Ducie Island wasn't even on my radar when it first came about, I had heard a few locals talking about it but was working on some PSK31 logs so I sort of wrote VP6DX off. One evening our local DX king announced that VP6DX was on 10 meters
so I went over to check it out. After about 10 or 15 tries on 10 meter phone I figured propagation just wasn't with me. Later that day I saw the spot come up where VP6DX was on 15 meters so I went there in search of them and there they were, it took me several calls but I got to work SV1JG on 15 meter SSB. So now I'd be sure I would get a QSL from them. Later that evening I became curious about 10 meters so I went to the CW frequency and there they were, the op (DL3DXX) had a great fist and so I thought I'd at least try to see what I could do. After a couple of tries I received the KK3Q 5NN from DL3DXX at the rig for VP6DX. Now I was starting to get interested in the other bands so I started prodding around the VP6DX web site and found some fantastic resources online placed there by their webmaster, Carsten Esch. I printed the page with their operating times & frequencies and taped it right over the shelf for the pc monitor. One thing I soon learned about the VP6DX crew, they stuck by there schedule and I soon found myself chasing them on various frequencies and modes. All totaled I worked them 17 times, actually 18 but my 12 meter CW QSO's (2 of them) never seemed to show. Below is a list of OP that I worked at VP6DX, a couple of the markers on the online log did not indicate who the OP was for that band/mode.
10CW: DL3DXX
10SSB: RA3AUU
12CW: (2 contacts, but unconfirmed)
12SSB: DL6LAU
15CW: SP3DOI
15SSB: SV1JG
17CW: DL3DXX
17SSB: SP3DOI
17RTTY: not marked on log
20CW: UA3AB
20SSB: not marked on log
20RTTY: SV1JG
30-CW: DL3DXX
30RTTY: SP5XVY
40CW: DL6LAU
40SSB: SV1JG
80CW: SP3DOI
80SSB: ES5TV
My online log search:

July 24, 2008 News: It's Here !!!
Without a doubt the VP6DX QSL card will known as one of the premier QSL cards. The photography is the best, the confirmation label on the back was heart warming to see the fruits of my labor of working some of the finest ops out there. Above all is the fact that the QSL is actually 18 pages long with 80 photos in it! All of this and it is still the size of a regular QSL card.
When I went to the mail box and saw this envelope (along with another for my wife Debiie, N3DCJ) I knew what the contents were as I was expecting something like this from Radio Expeditions, LLC
And here it is: